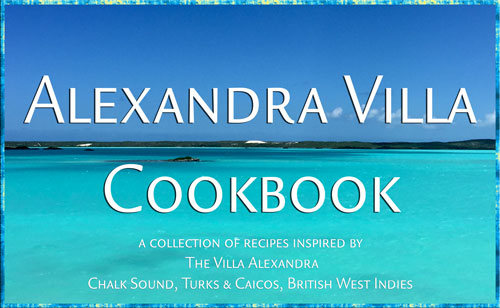 Bambarra SeaBreeze Shrimp
Recipe By :Sam's Seafood Grill
Alexandra Villa Cookbook
2015
28 jumbo white shrimp — peeled to tail and deveined- (you might want to consider bringing these with you)
3 tablespoons Bambarra Coconut Rum
2 tablespoons lime juice — freshly squeezed
2 tablespoons Bayou Sam's Triple Blast (recipe at bottom of page)
3 tablespoons Corto Olive Oil
Bambarra Coconut Rum Butter
1 stick unsalted butter
1 teaspoon Bambarra Coconut Rum
2 teaspoons lime juice — freshly squeezed
1 dash salt
1 teaspoon Bayou Sam's Triple Blast (recipe at bottom of page)
2 pinches cayenne pepper
For Bambarra Coconut Butter, melt, do not burn butter. Add ingredients, reheat until well incorporated. Keep warm until serving.
Place dried shrimp in bowl mixed with Bambarra Coconut Rum, lime juice and Bayou Sam's Triple Blast.
Toss to coat.
Let marinate 25 minutes. The very ends will start to turn white, liked cooked.
Add olive oil and mix well.
On medium high grill, grill shrimp a minute, then carefully and quickly drizzle marinate and quickly shut lid to let steam up.
Turn and cook for a minute and do the same with the marinade.
Once the steam has cleared, pull shrimp.
Serve with Bambarra Coconut Rum Butter over the top.
Source:"MissBeHavinsHaven.com"
Copyright:"2015″
– – – – – – – – – – – – – – – – – – –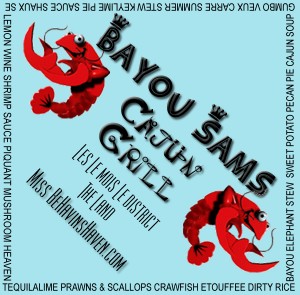 Cajun Grits Amarilla
Recipe By :Bayou Sam's Cajun Grill
Alexandra Villa Cookbook
2015
2 cups water
1 1/2 cups half and half
1 cup polenta — or grits
2 teaspoons salt
2 teaspoons Bayou Sam's Triple Blast (recipe at bottom of page)
2 pinches cayenne pepper
1/2 cup parmesan cheese — grated
1/2 cup gouda cheese — grated
1 tablespoon Texas Pete's Hot Sauce
2 teaspoons Bambarra Coconut Rum Butter — per serving
Heat water in 3 quart pan until hot, add half and half and bring to light boil.
When boiling add polenta and salt. Constantly stir, it will thicken fairly quickly.
Reduce heat and keep stirring, pull from heat, add spices and fold in cheeses until melted, stir in Texas Pete's, until incorporated.
Cut with hot water if too thick. Let reheat, but do not cook.
To serve: plate in mold or spoon onto plate, drizzle Bambarra Butter over grits. Don't let the company see you licking the spoon.
Source: "MissBeHavinsHaven.com"
Copyright: "2015"
– – – – – – – – – – – – – – – – – – –

Caicos Coconut Rice
Recipe By :Sam's Chop House
Alexandra Villa Cookbook
2014
2 1/2 cups water
1 tablespoon Better Than Bullion
1 cup Parboiled rice
1 teaspoon Mrs. Dash
2 teaspoons Island Oasis Pina Colada Mix
1 1/2 tablespoons Roasted Garlic Compound Butter
1/2 teaspoon Fresh chives — very finely diced.
Roasted Garlic Compound Butter
1/2 pound unsalted butter — softened
2 tablespoons roasted garlic — crisp
Boil water, add Better Than Bullion and reduce slightly.
Add rice and Mrs. Dash and let boil a minute. Cover and reduce heat to a simmer. Simmer 15 minutes.
Stir in Island Oasis and cover and let simmer another 10-12 minutes until still moist, but not wet.
Stir in compound butter. Cover and remove from heat.
Let tighten up about 5 minutes. Fluff and serve topping with tiny diced chive.
Roasted Garlic Compound Butter
Gently mix roasted garlic into softened (not melted) butter.
Place on wax paper and roll up into a roll and twist ends. Place in fridge until well chilled. Slice amount needed for basting, sauces or steaks.
Source:"MissBeHavinsHaven.com"
Copyright:"2014″
Serving Ideas : Pork Tenderlion, seafood
NOTES : With this amount of Island Oasis, there is just the slightest hint of coconut. It is very subtle. The same with the compound butter.
– – – – – – – – – – – – – – – – – – –

Provo Citrus Pig Back
Recipe By :Sam's Chop House
Alexandra Villa Cookbook
2014, 2015
2 medium pork tenderloins — rinsed and drained
1 tablespoon Sapodilla Bay Citrus Spices
1 teaspoon Sea Salt
2 teaspoons black pepper — coarsely ground
1 handful 2 parts pecan chips, 1 part mesquite chips
1/3 cup sugar
water — to cover
Sapodilla Bay Citrus Spices
1/2 teaspoons Cara Cara Orange Zest — finely zested
1 teaspoon Valley Lemon Zest — finely zested
1 teaspoon lime zest — finely zested
1/2 teaspoon Tajin'
2 teaspoons Bayou Sam's Triple Blast
1/4 teaspoon cayenne pepper — ground fine
Mix all ingredients together and let sit out until zest dries out a bit. Seal and keep in cool dry place.
 Recipe Directions:
You can cook this anyway you like. I prefer, to sear the joined tenderloins over intense direct heat. Then remove to medium indirect heat and finish over a smoker box of chips.
A few hours before cooking, soak your wood chips in the sugar and water about half an hour, drain and let dry.
With tenderloins rinsed, dried well and tied together at opposite ends, Rub spices, salt and pepper on tenderloins and let stand an hour minimum.
Heat grill to high placing chips in smoker box and placing directly on grill on the hottest part to heat. At about 700° and just beginning to smoke the chips.
Drizzle to lightly coat tenderloin with olive oil and place on hottest spot on grill. Wait about 2 minutes and turn 45°.
About a minute or so later, flip and sear on other side for about 2 minutes or so.
With chips smoking, move tenderloins to warming rack directly above the smoking chips to finish to desired doneness. Not over 160° internal.
Description: "From the Villa Alexandra Cookbook"
Source: "MissBeHavinsHaven.com"
Copyright: "2014"
Serving Ideas : Perfect summer dish with light chopped salad.
– – – – – – – – – – – – – – – – – – –

Caicos Coconut Tortellini
Recipe By :Samcello's Ristorant Villaggio
Alexandra Villa Cookbook
2014
1 1/3 cups heavy whipping cream
To Taste Himalayan Salt — ground fine
2 pinches white pepper — Fresh Ground
2 pinches garlic pepper
1/2 teaspoon cayenne pepper — finely ground
1/2 cup Gruyere cheese — shredded
1/4 cup créme fraîche
1/2 stick butter — divided into T and coated in flour, then freeze for 10 minutes
1 Tablespoon Roasted Garlic Compound Butter
1 tablespoon Island Oasis Pina Colada Mix
1 7 oz box DaVinci Parmesan Tortellini
—Optional—
2 tablespoons crab meat — finely shredded
In a 3 qt pan, boil tortellini and remove from heat 2 minutes before directions. Let stand in water.
Heat a saucier pouring in cream early on and allowing to heat slowly to a low simmer. Stir in spices and salt one at a time while cream simmers, stirring.
Let cream firm up a bit then add pina colada mix, whisk in Gruyere, compound butter and creme fraiche until smooth, then whisk in butter a teaspoon at a time and let simmer, stirring every minute or so not to burn.
When thickened to desired thickness remove and place plastic wrap directly on top of sauce. Keep warm.
Optional Final step. Stir in finely shredded crab meat until incorporated and heated.
Source: "MissBeHavinsHaven.com"
Copyright: "2014"
Suggested Wine: Etude 2010 Estate Chardonnay Carneros
– – – – – – – – – – – – – – – – – – –

Risotto Écrevisse©
(Crawfish Risotto)
Recipe By :Sam's Seafood Grill
Alexandra Villa Cookbook
2015
1/4 cup unsalted butter
2 tablespoons olive oil
4 cloves roasted garlic — minced and smashed
1/2 cup shallots — diced fine
2/3 cup chanterelle mushrooms — diced small
1/8 teaspoon lemon zest
6 ounces white wine — room temp
1 teaspoon Bayou Sam's Triple Blast
1/4 teaspoon cayenne pepper
1/2 teaspoon white pepper
1 cup Arborio rice
8 cups chicken stock — reduced to 6 and keep heated
12 ounces crawfish meat — DRAINED WELL and dried
4 ounces heavy cream
2 tablespoons Fresh chives — diced fine
2 tablespoons Parmigiano Reggiano — shaved
If using dried mushrooms (actually best results), soak mushrooms in a couple of ounces of white wine to reconstitute for about 30 minutes on the counter. Dice small.
In a large saute pan heat to medium heat melt 1 tablespoon of butter and splash of olive oil, CAREFUL NOT TO BURN, add shallots saute until shallots are soft, add garlic. Add Chanterelles and saute about 5 minutes. Add lemon zest.
Raise heat and deglaze with white wine and reduce, stir in spices but NOT SALT. Reduce almost completely.
Add 2 tablespoons of butter and the rest of the olive oil, let heat, add risotto, stir constantly for 2-3 mintues. Until it just starts to brown and give off it's fragrance.
Stir in 1 cup of hot stock. Always stirring and cook until all the liquid is absorbed. Your pan should be at a simmer, not a boil.
Continue same procedure on another cup of stock. Then the continue with single cups of stock until risotto is almost tender. Add crawfish meat mixing well.
When risotto is just tender, add a final cup of stock. Stirring constantly. (NOTE: you may not use all the stock)
Add heavy cream. Stir to mix and let heat. Now salt to taste.
To plate: Top with Fresh chives and Parmigiano Reggiano shavings.
Description: "Crawfish Risotto"
Source: "MissBeHavinsHaven.com"
Copyright: "2015"
Serving Ideas : I've used a variety of mushrooms, mostly dried and soaked in white wine. Good results are the Chantrelles, Woodear and Shitakes. The Portobello and Crimini were not as good in this dish.
– – – – – – – – – – – – – – – – – – –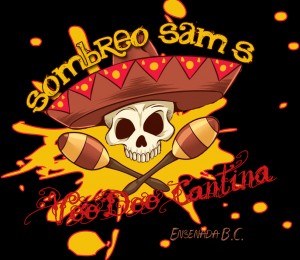 Roasted Red Bell and Avocado Salad with Mexican Lime Vinaigrette
Recipe By :Sombreo Sam's VooDoo Cantina
Alexandra Villa Cookbook
2014
1/2 cup shallot — sliced very thin
1 cup apple cider vinegar
1/2 teaspoon kosher salt
2 teaspoons sugar
2 large red bell pepper
1/2 cup peanut oil
1 sack butter salad greens
1 cup orange segments — diced
1 small avocado — diced
Vinaigrette:
3 tablespoons pecan oil
3 1/2 tablespoons red wine vinegar
2 tablespoons Mexican lime juice
1 teaspoon soy sauce
1 pinch chipotle powder — chopped
1/8 teaspoon cayenne pepper
2 teaspoons garlic powder
1 tablespoon Dijon mustard
1 teaspoon sugar
1/2 teaspoon salt — to taste
1/4 cup cilantro — rough minced
1 cup corn tortilla strips — fried crispy
Place thin sliced shallot in apple cider vinegar, add salt and sugar. Let stand 4 hours to overnight.
Wipe red bell peppers with oil and roast directly on hot grill, turning often. Grill until well charred on all sides, about 10 minutes. Pull from grill and place in paper sack, seal sack and let stand about 20 minutes. Remove from bag and remove outter skin. Slice in long strips, discarding seeds and insides.
Place all of the ingredients for the vinaigrette into a imersion blender processor or blender. Puree until smooth. Taste and adjust seasonings if needed. Let stand 20 minutes.
Whisk vinaigrette well.
Toss dressing (to taste, about 1/2 cup to start) with butter greens, roasted red bell pepper, pickled shattot, orange segments, and diced avocado in a large salad bowl to coat well.
Serve with crispy tortilla strips.
Description: "Must begin about 4 hours to 1 day ahead!"
Source: "MissBeHavinsHaven.com"
Copyright: "2015"
Serving Ideas : Serve with fresh grilled fajita chicken breast strips.
– – – – – – – – – – – – – – – – – – –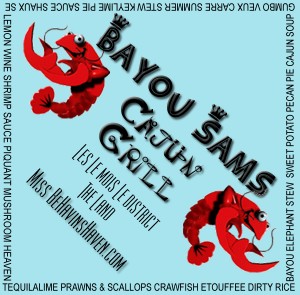 Bayou Sam's Triple Blast ©
Recipe By :Bayou Sam's Cajun Grill 1998 ®
——– ———— ——————————–
1 part Emril's Bayou Blast
1 part Tony's Chachere's Seasoning
1 part Rajun Cajun Seasoning
1/2 part cayenne pepper
Mix well.
– – – – – – – – – – – – – – – – – – –