Skirt Steak & Chili Rub
Recipe By :Bar Nothing Ranch
2 tablespoons select chili powder
1 tablespoon garlic powder
1 tablespoon cumin
1/2 tablespoon onion powder
1 tablespoon Pink Himalayan Sea Salt
2 teaspoons black peppercorns — ground coarse
48 ounces skirt steak — trimmed
1 tablespoon olive oil
1 large lime — cut into wedges
Mix spices throuoghly.
Rub trimmed skirt steak with olive oil and coat with spice rub.
Sear on high heat about 4 minutes per side, about medium rare.
Let rest 10 minutes.
Slice and Serve with lime wedges.
Source: "MissBeHavinsHaven.com"
Copyright: "1988"
– – – – – – – – – – – – – – – – – –
Mongolian Pork Chops
Recipe By :Sam's Chop House
1/2 cup hoisin sauce
4 cloves garlic — minced
1 tablespoon soy sauce
1 tablespoon Kekap Manis
1 tablespoon grated fresh ginger
1 tablespoon red wine vinegar
1 tablespoon rice vinegar
2 teaspoons Mirin
1 tablespoon sherry vinegar
2 teaspoons sesame oil
2 teaspoons white sugar
1 1/2 teaspoons Frank's Hot Sauce
1/2 teaspoon ground white pepper
1/2 teaspoon freshly ground black pepper
2 2″ thick bone-in center cut pork chops — (10 ounce)
Mustard Sauce
1/4 cup red wine vinegar
3 tablespoons white sugar
2 tablespoons hot mustard powder (such as Coleman's ®) — to taste
1 egg yolk
1/3 cup creme fraiche
1 teaspoon Dijon mustard
1/4 teaspoon ground turmeric
1/8 teaspoon cayenne pepper — to taste
Combine hoisin sauce, garlic, soy sauce, ginger, 1 tablespoon red wine vinegar, rice vinegar, Mirin, sherry vinegar, sesame oil, 2 teaspoons sugar, hot sauce, white pepper, and black pepper in a large bowl. Whisk thoroughly and set aside.
Place pork chops in a resealable freezer bag; pour slightly more than 1/2 the marinade into freezer bag over pork chops. Seal bag and refrigerate for 6 to 8 hours. Reserve remaining marinade.
Remove pork chops from marinade and pat dry using paper towel. Season lightly with counter seasoning
Preheat grill to high heat, and lightly oil the grate.
Sear chops on high heat on each side, rotating 90° halfway through, about 4 minutes per side.
Move pork chops from directly above heat source. Continue cooking over indirect medium heat, brushing the remaining marinade on each side, until no longer pink inside, about 25 minutes. An instant-read thermometer inserted into the center should read 140°.
MUSTARD SAUCE
Combine 1/4 cup red wine vinegar, 3 tablespoons sugar, 2 tablespoons hot mustard powder, and egg yolk in a small saucepan over medium-low heat. Whisk until slightly thickened, about 5 minutes; remove from heat.
Stir in creme fraiche, Dijon mustard, turmeric, and cayenne pepper. Refrigerate until needed.
Source: "MissBeHavinsHaven.com"
Copyright: "2015"
Yield: "2 servings"
– – – – – – – – – – – – – – – – – – –
VooDoo Shrimp
Recipe By :Shanghai Sam's Polynesian Palace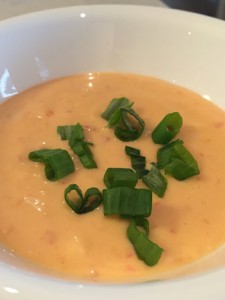 VooDooSAUCE
1/2 cup Duke's Mayonaise
2 tablespoons Texas Pete Hot Sauce — (1 to 2)
1/3 cup sweet chili sauce
1 1/2 teaspoons rice vinegar
SHRIMP
1/2 cup cornstarch
2 eggs — beaten with 2 tablespoons water
3/4 cup all-purpose flour
1/2 cup panko breadcrumbs
1 teaspoon coarse salt or 1/2 teaspoon table salt
1/2 teaspoon ground black pepper
1/4 teaspoon onion powder
1/4 teaspoon garlic powder
oil for deep frying – vegetable — coconut or canola
1 pound medium shrimp — peeled and deveined
GARNISH
1 handful mixed greens
1 green onion — snipped with kitchen shears (green part only)
In a small bowl whisk the sauce ingredients together. Cover and refrigerate.
Add the cornstarch to a shallow bowl or plate and beat the eggs together in another. In a separate, wide shallow bowl or plate whisk together the flour, panko, salt, pepper and all the spices.
One at a time coat the shrimp with the cornstarch then dip in the egg allowing excess to drip off then coat with the bread crumb mixture patting on with your hands if needed. Set them on a platter or cutting board and refrigerate 20 minutes.
Heat 1 – 2 inches of oil in a Dutch oven or in a big heavy-bottomed saucepan to 350 degrees F.
Fry the shrimp in batches for 3 to 4 minutes or until golden brown. Drain on a wire rack or paper-towel lined plate.
When all of the shrimp are fried add set the greens on a platter, top with the shrimp and drizzle with the sauce or serve it on the side for dipping. Garnish with green onions.
Source: "MissBeHavinsHaven.com"
Copyright: "2006"
– – – – – – – – – – – – – – – – – – –
Duck Breast with Pomegranate Plum Sauce
Recipe By :Sam's Chop House
1 large duck breast — about 1.1 pounds
2 regular Italian prune plums — diced
2 cups POM pomegranate juice
1/2 cup orange juice — fresh squeezed
1/3 cup pinot noir
1 tablespoon sweet chili sauce — .
1/4 cup 20 year aged balsamic vinegar
1 tablespoon butter
Preheat oven to 425.
Preheat cast iron skillet to low heat.
Score the fat side of the duck with a knife.
Cook over low heat, rendering off fat. About 20 minutes. Duck breast should be nice and brown.
Remove duck breast and place in oven-proof casserole dish.
In a medium sauce pan, heat the pomegranate juice, orange juice, pinot noir, sweet chili sauce and balsamic vinegar. Bring to a boil. Cook at high heat about 10 minutes.
Pour the sauce (it will still be thin) over the duck breasts that are in the casserole.
Place the casserole oven. Cook 8 minutes for rare meat or 10 minutes for medium rare.
Remove casserole from the oven and remove duck breasts .Cover to keep warm.
Place contents of casserole dish back in sauce pan over high heat.
Add diced plums.
Simmer heavy until sauce begins to thicken, 10 minutes or so. NOT TOO THICK.
Whisk in butter until smooth.
Serve.
Source: "MissBeHavinsHaven.com"
Copyright: "2013"
NOTES : sub plum preserves or jam for plums.
– – – – – – – – – – – – – – – – – – –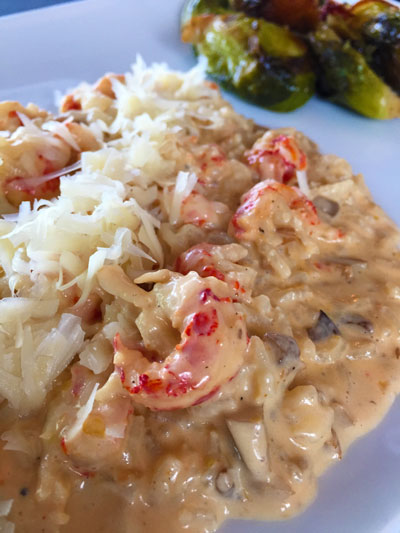 Risotto Écrevisse©
Recipe By :Sam's Seafood Grill
Description: "Crawfish Risotto"
1/4 cup unsalted butter
2 tablespoons olive oil
4 cloves roasted garlic — minced and smashed
1/2 cup shallots — diced fine
2/3 cup chanterelle mushrooms — diced small
1/8 teaspoon lemon zest
6 ounces white wine — room temp
1 teaspoon Bayou Sam's Triple Blast
1/4 teaspoon cayenne pepper
1/2 teaspoon white pepper
1 cup Arborio rice
8 cups chicken stock — reduced to 6 and keep heated
12 ounces crawfish meat — DRAINED WELL and dried
4 ounces heavy cream
2 tablespoons Fresh chives — diced fine
2 tablespoons Parmigiano Reggiano — shaved
If using dried mushrooms (actually best results), soak mushrooms in a couple of ounces of white wine to reconstitute for about 30 minutes on the counter. Dice small.
In a large saute pan heat to medium heat melt 1 tablespoon of butter and splash of olive oil, CAREFUL NOT TO BURN, add shallots saute until shallots are soft, add garlic. Add Chanterelles and saute about 5 minutes. Add lemon zest.
Raise heat and deglaze with white wine and reduce, stir in spices but NOT SALT. Reduce almost completely.
Add 2 tablespoons of butter and the rest of the olive oil, let heat, add risotto, stir constantly for 2-3 mintues. Until it just starts to brown and give off it's fragrance.
Stir in 1 cup of hot stock. Always stirring and cook until all the liquid is absorbed. Your pan should be at a simmer, not a boil.
Continue same procedure on another cup of stock. Then the continue with single cups of stock until risotto is almost tender. Add crawfish meat mixing well.
When risotto is just tender, add a final cup of stock. Stirring constantly. (NOTE: you may not use all the stock)
Add heavy cream. Stir to mix and let heat. Now salt to taste.
To plate: Top with Fresh chives and Parmigiano Reggiano shavings.
Source: "MissBeHavinsHaven.com"
Copyright: "2015"
Serving Ideas : I've used a variety of mushrooms, mostly dried and soaked in white wine. Good results are the Chantrelles, Woodear and Shitakes. The Portobello and Crimini were not as good in this dish.
– – – – – – – – – – – – – – – – – – –