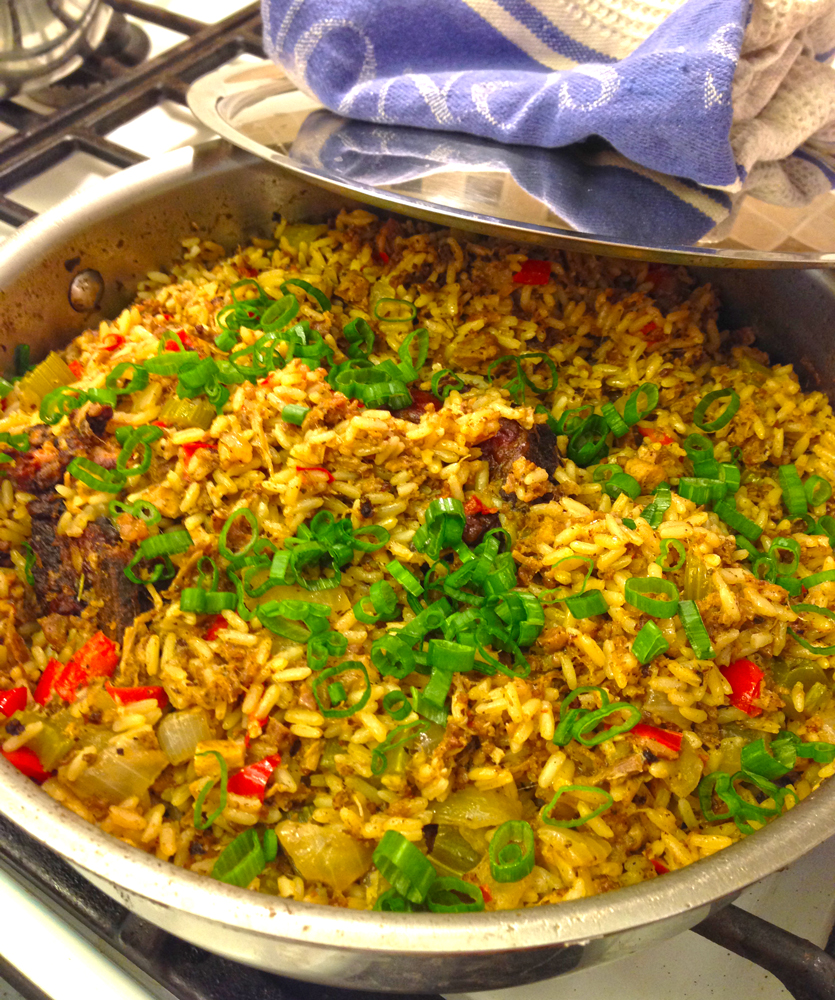 Recipe By : Bayou Sam's Cajun Grill ® 1998
Serving Size : 10
Amount Measure Ingredient — Preparation Method
——– ———— ——————————–
2 tablespoons Chicken Fat or Duck Fat or Butter — or any combination
6 ounces Chicken gizzards — coarsely ground
8 ounces Jimmy Dean Hot Sausage — room temperature
3 ounces extra lean stew meat — diced very small
1/4 cup chicken livers — processed to a slur
2 medium smoked pork necks
3/4 cup Texas 1015 or equivalent — diced rough
2 MD Celery stalk — sliced thin
1/2 cup Red, Yellow or Orange Bell peppers — chopped
1/2 cup Eggplant — in 1/3″ chunks
2/3 cup white wine
3 cups Chicken stock — use the real stuff please
2 teaspoons Garlic — minced
1 tablespoon Bayou Sam's Triple Blast
1 large Bay leaf
2 1/2 teaspoons Kosher Salt
1/3 teaspoon White pepper
1/2 teaspoon Black pepper — freshly ground
1/2 teaspoon Cayenne pepper — ground
1/2 teaspoon Cumin — ground
1/2 teaspoon Oregano — whole leaf
1 1/2 cups Parboiled rice
1/2 cup Green onion tops — thin sliced
Place gizzards in a food processor and process until the desired consistency. Preferably about like chili meat. Remove and add chicken livers, process usually by pulse until just slurred. Try not to over do them. set aside separately.
Heat a heavy duty saute pan or cast iron skillet (do use non-stick) over medium / high heat. Add the margarine or fat, let heat, next add the pork sausage and the gizzards, in clumps and spreading out across your pan., Now add the stew meat. Brown the meat thoroughly, stirring often, about 5 minutes then stir in liver slur and cook until just cooked.
Carefully transfer contents to a food processor and pulse until a consistent size for all ingredients is achieved. I like mine about the size of BBs personally. Transfer back to pan on the stove.
Let cook over high heat until a crust just starts to form all over the bottom of the pan. Do not burn.
Add the onions, bell pepper, celery and eggplant. Cook this mixture about 3 minutes, letting a crust form on the bottom of the pan, but not let burning too bad.
Add Spices and then deglaze with white wine. Cook for 4 to 5 minutes medium to high heat , scraping the bottom and sides of the pan with a metal spoon. (this procedure will intensify the taste of the final product) until most of the liquid is consumed.
Heat smoked pork necks slightly in microwave until mildly heated.
Add the chicken stock and bring to a boil.
Add the smoked pork necks. Let cook/boil 2 minutes.
Stir in the raw parboiled rice and cover the saucepan. Turn the heat to very low and simmer for 30 minutes or until all the liquid is absorbed. Uncover remove the neck bones and set aside for cook's snacks.
Stir in the sliced green onions.
NOTE: In Louisiana, dirty rice is traditionally served with any poultry dish, such as chicken, duck, turkey or quail. It is also a great side dish with roast pork, nutria, ferret, varmint or elephant stew.
                                - - - - - - - - - - - - - - - - - - - 
Per Serving (excluding unknown items): 301 Calories; 13g Fat (40.8% calories from fat); 13g Protein; 29g Carbohydrate; 2g Dietary Fiber; 92mg Cholesterol; 346mg Sodium; 3g Total Sugars; trace Vitamin D; 46mg Calcium; 3mg Iron; 389mg Potassium; 179mg Phosphorus. Exchanges: 19 Grain(Starch).
NOTES : Try stirring in fresh baby oysters before covering.
Neck bones were a great snack after cooking!
Nutr. Assoc. : 58590 83558 81151 84245 60565 0 63945 63700 80147 63798 66075 61505 0 0 0 3829 1630 161 272 3013 1016 81433 0