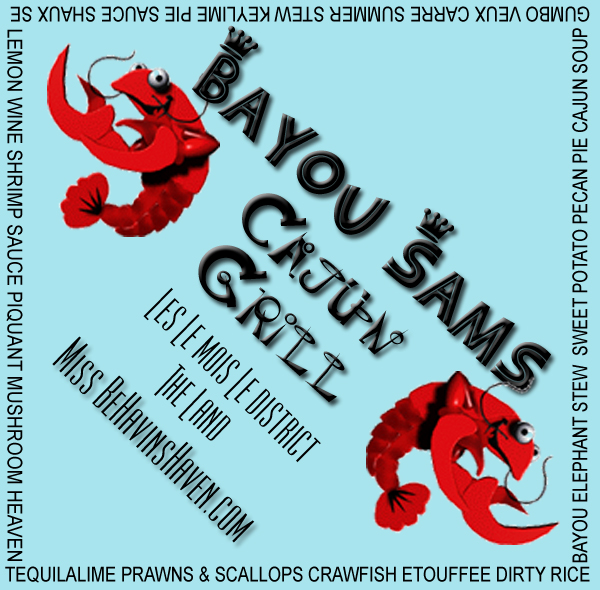 Recipe By :Bayou Sam's Cajun Grill
Serving Size : 16
Amount Measure Ingredient — Preparation Method
——– ———— ——————————–
1 pound macaroni — cooked
2 pounds shrimp — boiled and completely peeled, cooled and chopped
12 eggs, hard boiled — chopped
1 cup sweet onion — finely chopped
1/2 cup celery — finely chopped
1/4 cup red bell pepper — super fine chopped
2/3 cup black olives — finely chopped
1 cup dill pickles — finely chopped
SALAD DRESSING
1 1/2 pints Duke's Mayonnaise — chilled
1/3 cup olive oil
1 1/2 tablespoons Louisiana Hot Sauce
1 1/2 tablespoons lemon juice
2 teaspoons Worcestershire sauce
2 teaspoons Maille Dijon Mustard
2 teaspoons ketchup
1 teaspoon cayenne pepper
1 1/2 teaspoons red pepper flakes
GARNISH
1/2 cup scallions — thinly sliced
Hard boil eggs, let cool completely.
For the dressing, whisk mayonnaise and olive oil until well blended, add hot sauce, lemon juice, Worcestershire sauce, mustard, ketchup. Adding cayenne and red pepper flakes. Mix well. Refrigerate 1 hour.
Cook macaroni as desired. Drain.
Mix shrimp through pickles, add just cooked, but slightly cooled pasta.
Now fold in 1/2 of your dressing, gently mixing well. Cover and chill well.
Pull 20 minutes before serving and fold in rest of dressing (Or until desired consistency).
Top with scallions.
Copyright: "1988"
– – – – – – – – – – – – – – – – – – –
Per Serving (excluding unknown items): 215 Calories; 6g Fat (26.6% calories from fat); 16g Protein; 24g Carbohydrate; 2g Dietary Fiber; 91mg Cholesterol; 281mg Sodium; 2g Total Sugars; 0mcg Vitamin D; 67mg Calcium; 2mg Iron; 283mg Potassium; 185mg Phosphorus. Exchanges: 17 1/2 Grain(Starch).
Serving Ideas : Mix dressing and boil the eggs the night before.
NOTES : I usually make 25% more dressing to have just in case.
Nutr. Assoc. : 0 0 903236 0 0 0 0 0 0 881 0 20151 0 0 504 0 0 0 0 0