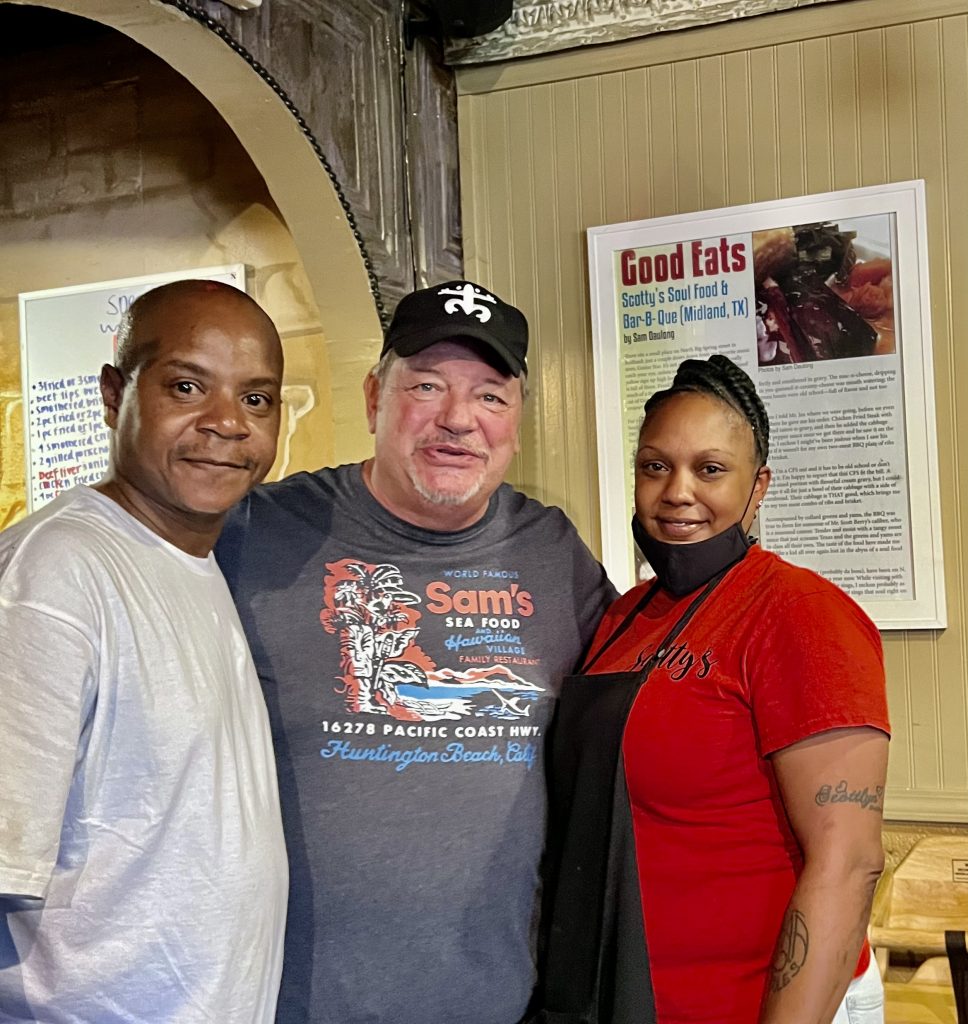 "don't hotrod the truck with my food in the back!"
Some days it's just a mid-day meal, some days it's an adventure. Both of us working unconventional schedules, we covenant having time to go to lunch. For us, lunch was very special when we first started dating, almost 14 years ago then shortly after getting married. So we're both a little giddy with excitement when we can hop in the '66 and go out for lunch. But today's excitement was not only that we got to have lunch together, but we had lunch together at one of our all-time favorite spots in Midland. Scotty's Soul Food and BBQ over at 523 East Illinois.
The dining room is warm and inviting, as is the small sequestered room, I'd like to call the Soul Room. If you don't know, it's perfectly ok. Scotty's is open for lunch, until usually around 4. It's best to check on their Facebook page or give them a call.
I was blessed and fortunate enough to have been given a food review spot in the Tall City Blues Fest magazine that was in production a few years back. I would review different establishments in and around the Midland/Odessa area once a month and so happens, one of my first reviews was of course, Scotty's. I mean really??? What could possibly be a better combo than Soul Food and Blues?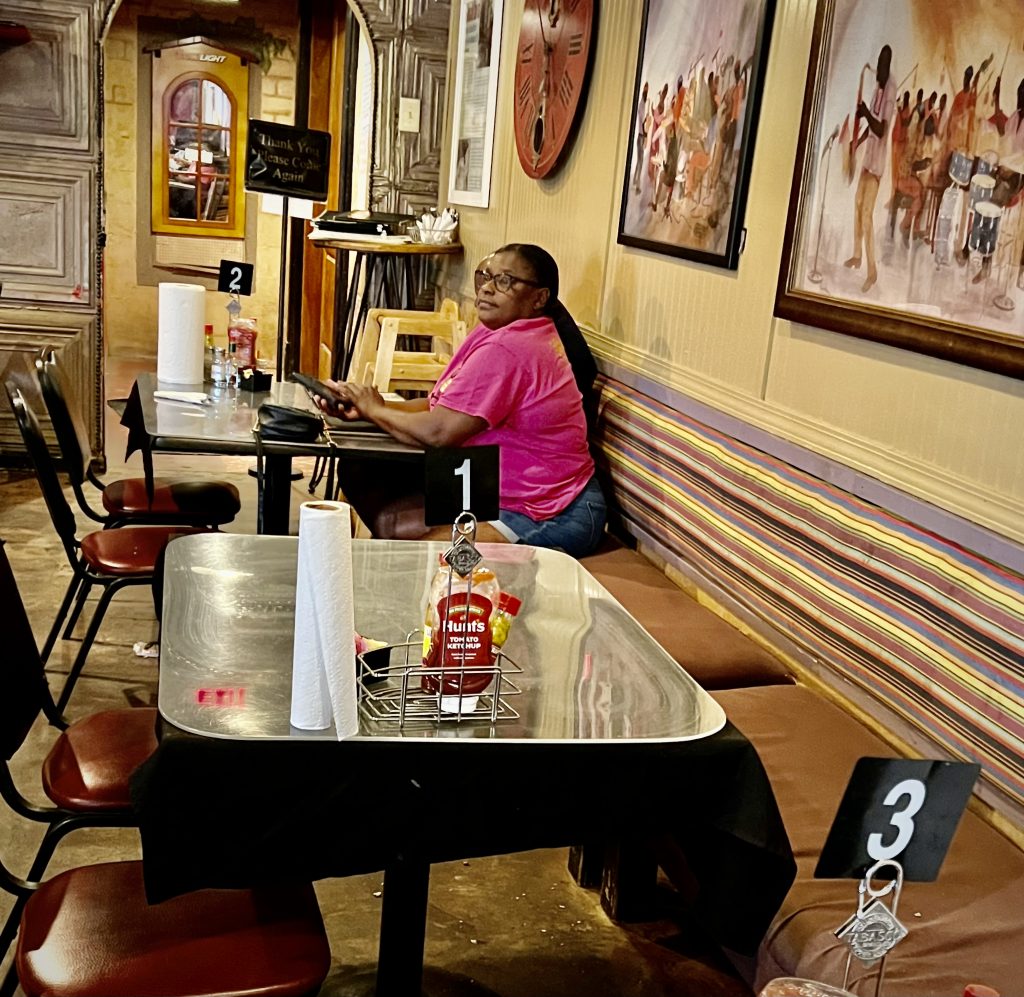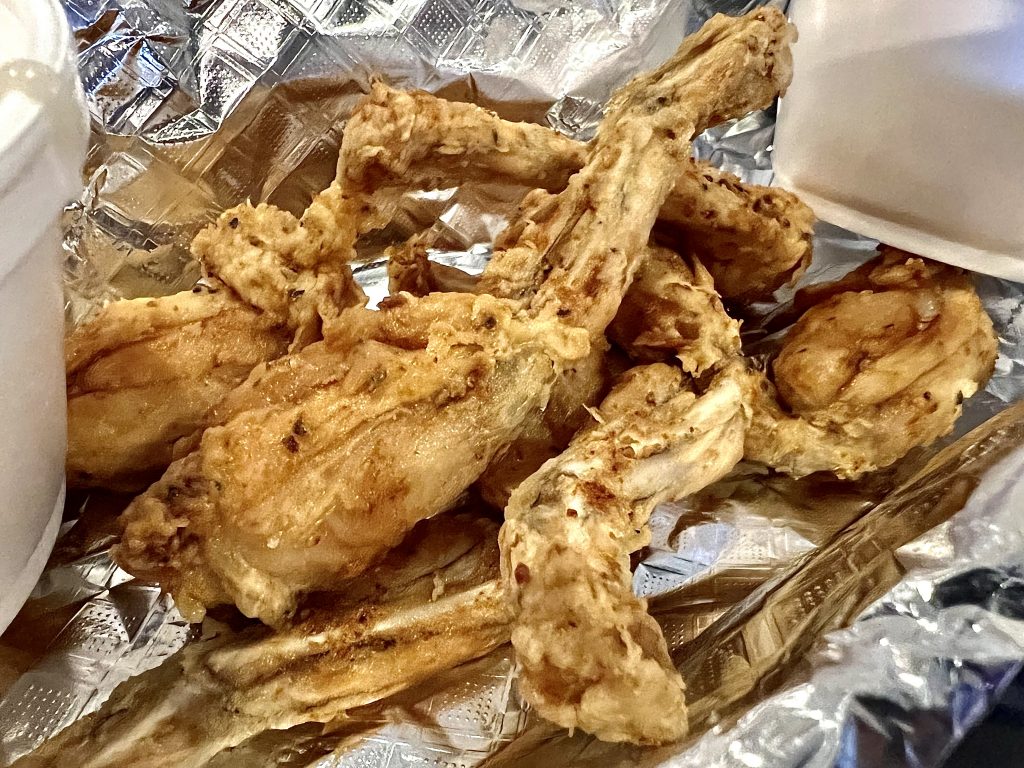 Well, little to my surprise. When I walked in, there was my review, poster size on the wall.
If you haven't been to Scotty's, you haven't had real homemade comfort and Soul food and their menu reflects that. From frog legs to chicken fried steak and meatloaf, to sides you could just make a meal out of; like collard greens, mac n cheese and okra, to the nothing but the best dang desserts you'll ever put in your mouth (I promise). If you have grown up with this type of food, then you are immediately taken back, if you were not, you'll remember it from now on.
Ok, so my bride got the catfish, collards and mac and a little side of okra to share. And I got the steak fingers, collards with mashed potatoes (no… these are mash taters 'n gravy), but I had to have a couple of my favorites first, those frog legs.
Sara's catfish was superb, long narrow fillets that were extra crispy, superbly seasoned and fried to perfection, you just don't find any better catfish around here. Her mac n cheese was hot, creamy and had a wonderful cheesey flavor. The fried okra was hot good and everything you want in fried okra.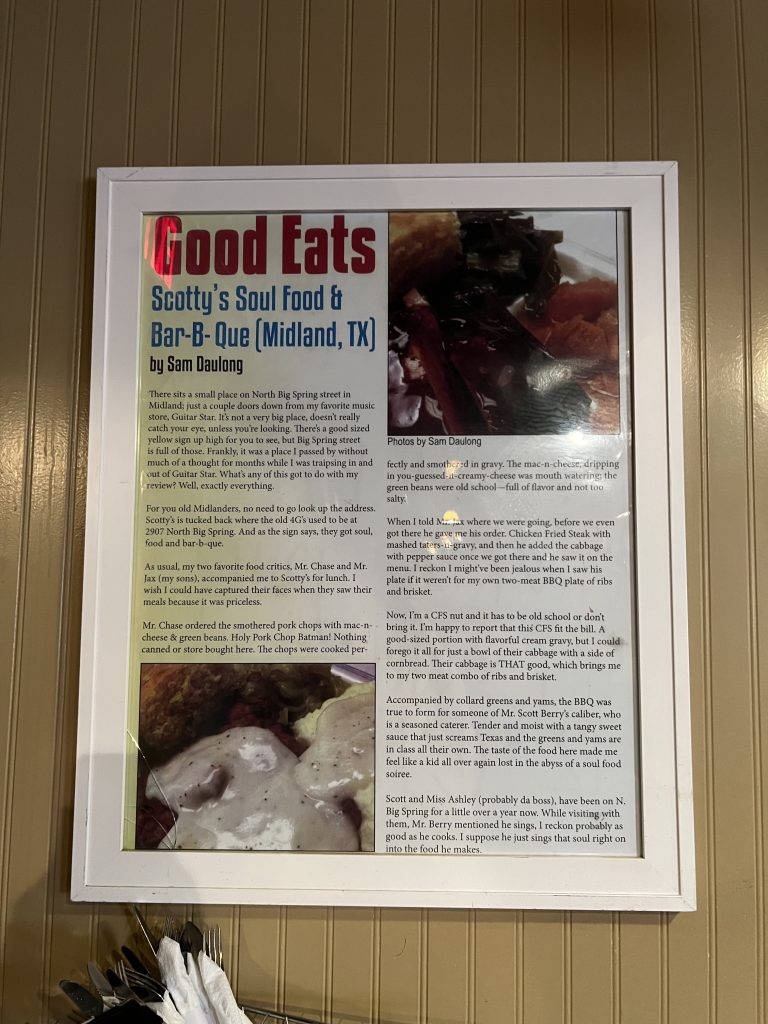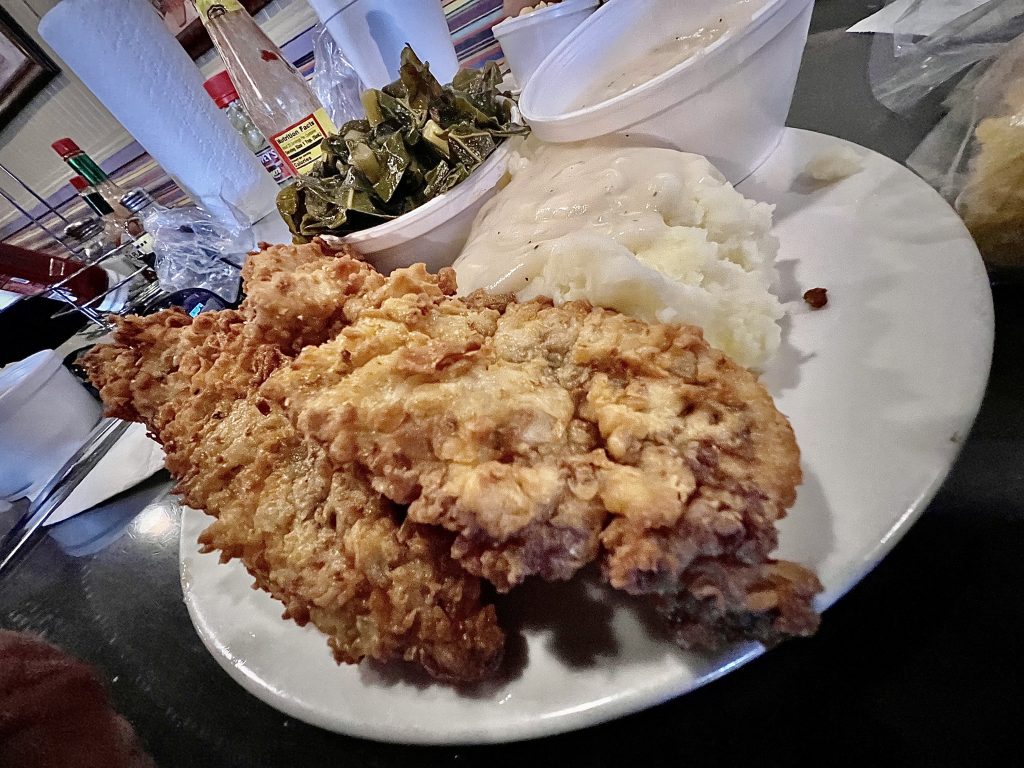 As I alluded to previously, I had to re-visit a couple of the frog legs for a starter and they did not disappoint. Perfectly breaded and fried with just the right amount of seasonings. My steak fingers were nothing short of spectacular. Gi-normous steak fingers with perfect cream gravy (and I had to get a small side of their brown gravy as well, you will want some too) and those "mash taters" and gravy. Hot, perfectly cooked with that cream gravy that you could lick off the plate, I'm serious. A friend of Scotty's was seated next to us and well of course we got to know each other, and he had the Chicken Fried Steak  with brown gravy and really really enjoyed it. My steak fingers were literally some of the best I've had, period. If you are a CFS snob like I am, there are certain things you look for in meal. These pieces of large long lightly tenderized pieces of round steak were perfectly breaded, seasoned and prepared. No burnt breading, no "loose sock" at all, and not too crispy, but still with a good "bite". The quintessential perfect chicken fried steak finger meal.
If you wondered why I might have omitted talking about their collard greens and thinking maybe he just didn't want to say anything bad? Well, let's say I always save the best for last. And I'm not exaggerating. I don't know if it's just something personal, inside of me. But those collard greens are some of the best you will find anywhere. Mouth watering, perfectly balanced and seasoned, not a bitter bite anywhere in them. They are greens that dreams are made of. And a special place in my heart, that takes this old man back to childhood.
Well… there it is… almost. I might have forgot to mention that it would take nothing short of being a starting lineman for the Rebels to finish a meal, you're going to want to take home the rest. And we did, along with a little extra catfish for our just graduated senior from Legacy (bottomless, bottomless pit). Hence getting back in the '66, Sara looks at me and says…. "don't hotrod the truck with my food in the back!"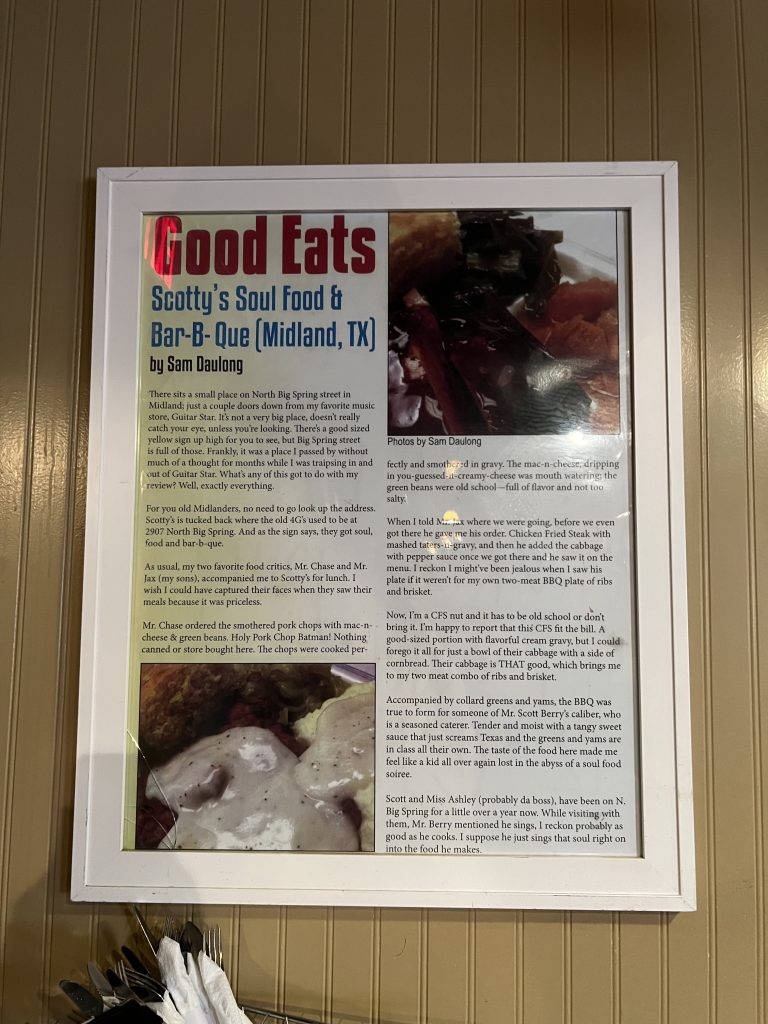 Steak Fingers, Dem "Mash Taters" and
"The Greens That Dreams Are Made Of"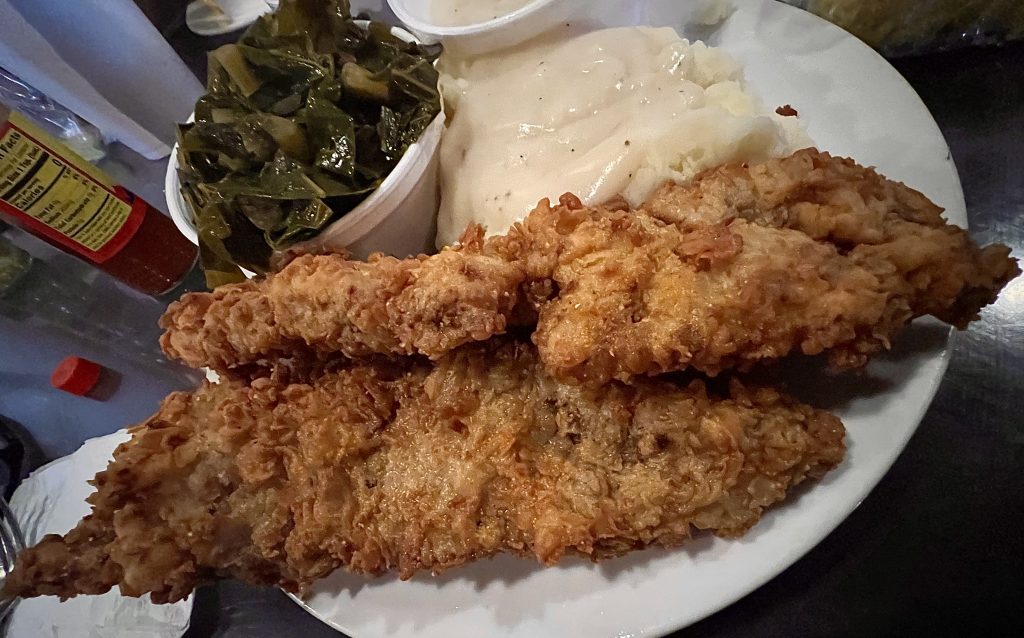 Look For Our Review of Scotty's Soulful BBQ Soon
(We didn't get a chance to sample any of it this time.)